Heather Ross and Jackie Haynes
Artist A & Artist B at DADA APERITIVO!
DadaMilano, the Dadaist, surrealist and absurd rib of Artisti a Progetto, participates (almost) every year in the Dada Festival organized every summer in Ameno (North Italy) by Paul Dorn (https://dada-ameno.ch/). During this last edition we brought a performance inspired by the concept of cycle and recycling. We relived the final stage of an exciting and exhausting 'Giro d'Italia' bike race, with its typical 'maglia rosa', its streamers, the commentary and the finish line between two wings of public spectators.
We had a chat with Artist A & Artist B, with us at this year's Dada Festival, in order to share practices and visions of other artists.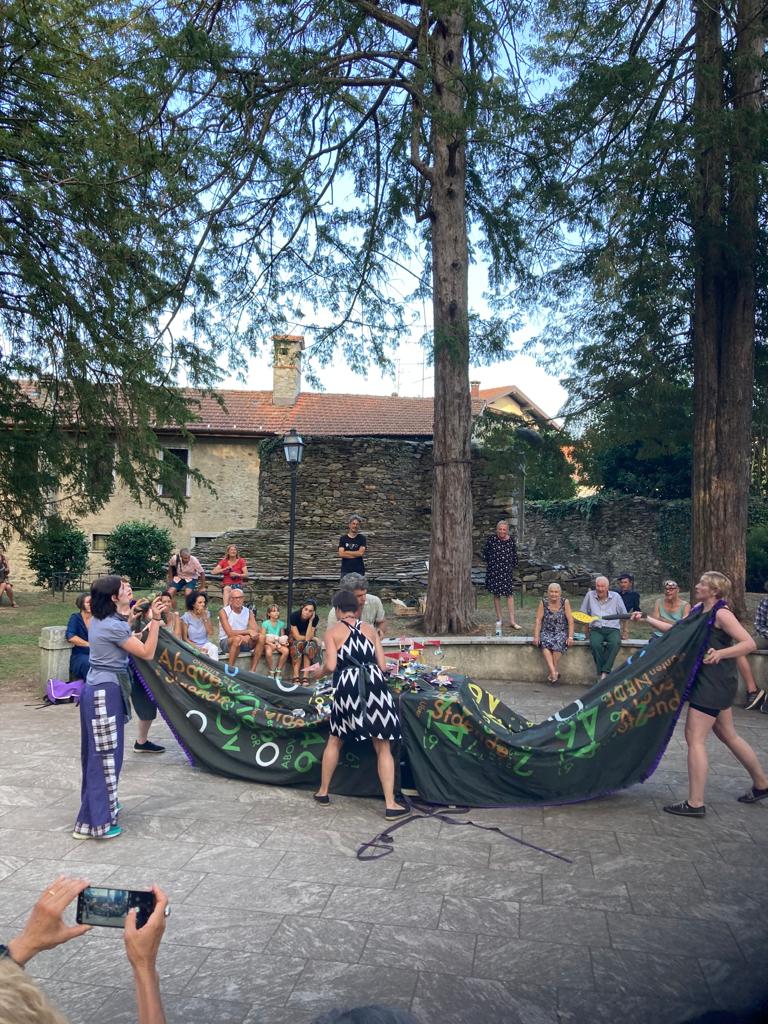 Please, tell us something about yourselves
Artist A & Artist B is interchangeably the collaborative working name for artists Heather Ross and Jackie Haynes. Heather comes from Scotland, and Jackie from England. We are both currently finalising our practice-based PhD's at Newcastle University and University of Cumbria respectively. By coincidence, we share the  subject of the German Dada artist, Kurt Schwitters. Heather's PhD focusses on Schwitters' Merz Barn Wall, situated in the Hatton Gallery in Newcastle. Jackie's focus is on Schwitters' collaborations and lesser known works arising from his short story of Augusta Bolte.
Could you tell us few words about Schwitters?
Schwitters lived through two world wars and fled Nazi Germany via Norway. He lived in exile in England until he died in 1948. Among the most important works he created is the Merzbau, an unfinished installation, which was destroyed by the Anglo-American bombing of Hanover in 1943-44.Schwitters and Raoul Hausmann, an Austrian artist and exponent of Berlin Dada (you can see one of his works here), worked together in ways which inspire our research, in fact we move too through many disciplines, genres and different materials, to explore new expressive modalities.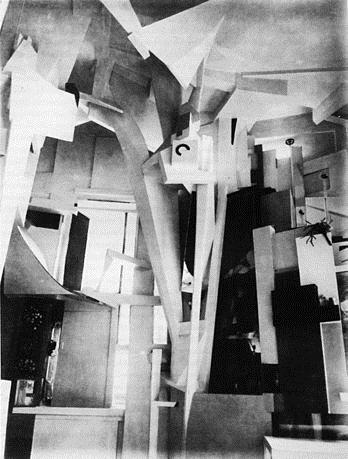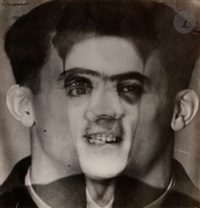 How did you meet each other?
In a boxing ring! In 2016. We were at Central Saint Martins in London for a Dada centenary event by Adrian Notz, the director at the time of Cabaret Voltaire in Zurich. We performed using the words of the Huelsendada poem by Colin Morton, a Canadian poet whose work takes inspiration from Kurt Schwitters. (https://capa.conncoll.edu/morton.merzbook.html#11).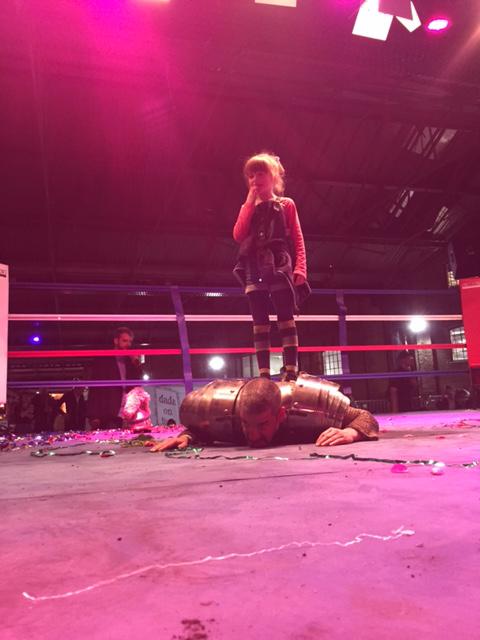 What got you into Dada?
Jackie: I was aware of Dada in a general way through art school (age 17/18), and associated it with punk, and became interested in its contemporary possibilities via Schwitters.
Heather: I was interested in the reality of it, in its preoccupation with using everyday objects or circumstances and challenging them/questioning the conventions of what we come to view as normal. This seemed important to me as my artistic practice developed and it led me to the work of Schwitters.
What do you like about Dada?
Jackie: I like the way it's an internationally recognisable word, broadly speaking, as a shortcut to identifying politically and artistically like-minded people. Spontaneously – it's like a swerving, porous void to catch momentarily as it whizzes past, and a way of recognising similar energy in other people's work.
Heather: If I'm honest, I actually don't really like to use the word 'Dada' as I worry at times it places the work we're doing in a very specific historical context and aesthetic. However, the thing I've really valued about it is the reliance on the individual to enact change by using things that are to hand – the body, a teacup… basic forms or methods of making can be used to say/do something important.
You are often around a table. Tell us something about it. Is there a particular concept which inspire you for the performance 'Dada Aperitivo at the Tabula Rasa'?
The idea came to us from another performance we did together four years ago, at the Vallum Gallery. There we created a performative action in which we used a table set as a device/system capable to move energies through laughter and nonsense. Through our Dadaist, absurdist interactions – the dishes we threw at each other, the words we used – everything became a detonator of energy. The title was Dinner for Three. It was inspired by Dinner for One, the theatrical television sketch recorded by German TV in 1962. (https://www.youtube.com/watch?v=FlNk1aQcn-Y).
We used Colin Morton's poem At Freedom's Gate about Schwitters being questioned by border control as a German arriving in Norway. We thought it was a really useful poem to grapple with in the context of the Brexit vote (which had recently happened in 2016). We played with the at times hospitable/aggressive/accusatory tone of the poem in relation to the polarized attitudes in the UK to the refugee crisis and immigration more generally. Some of the lines sounded innocent, others were very accusatory and suspicious. The initial part of the performance is very hospitable, sharing a meal and the second takes this nervous turn into an interrogation of belonging. (https://capa.conncoll.edu/morton.merzbook.html#37).
What were those dishes made of? They were fragile.
Heather: I made all of the plates using unfired clay, which would easily shatter/break. I made a whole dinner set for the performance which was smashed up during our 'dinner party'. Here you can find the video of Dinner for Three: https://vimeo.com/261719646.

Let's talk again about your 'Dada Aperitivo at the Tabula Rasa' at DadAmeno festival. Which materials did you use?

In 2021 we bought a decommissioned cargo parachute. We made pieces of it into dresses which functioned as large bibs/tablecloths which were joined in the middle to facilitate a collaged 'aperitivo' – in the sense of the Italian cultural ritual of engaging in pre-mealtime food and drink, meant to 'whet the appetite'. The documentation of this performance is printed in the form of a limited-edition zine.
You created a cloth exploding with colorful letters and numbers.
Yes, we developed sections of the parachute using screen printing techniques.
You were just amazing. Dressed as queens and parading down the park steps into the amphitheater.
Thanks to you guys we were able to move easily. DadaMilano as our waiters struggled a lot to try to rescue the aperitivo!
We were very happy to be part of your performance. We also really liked the evolution of the game, which was interrupted by a prosecco break at each round.
We did five rounds, until we yelled "Tabula Rasa!" At that point it was clear that the match had a happy ending.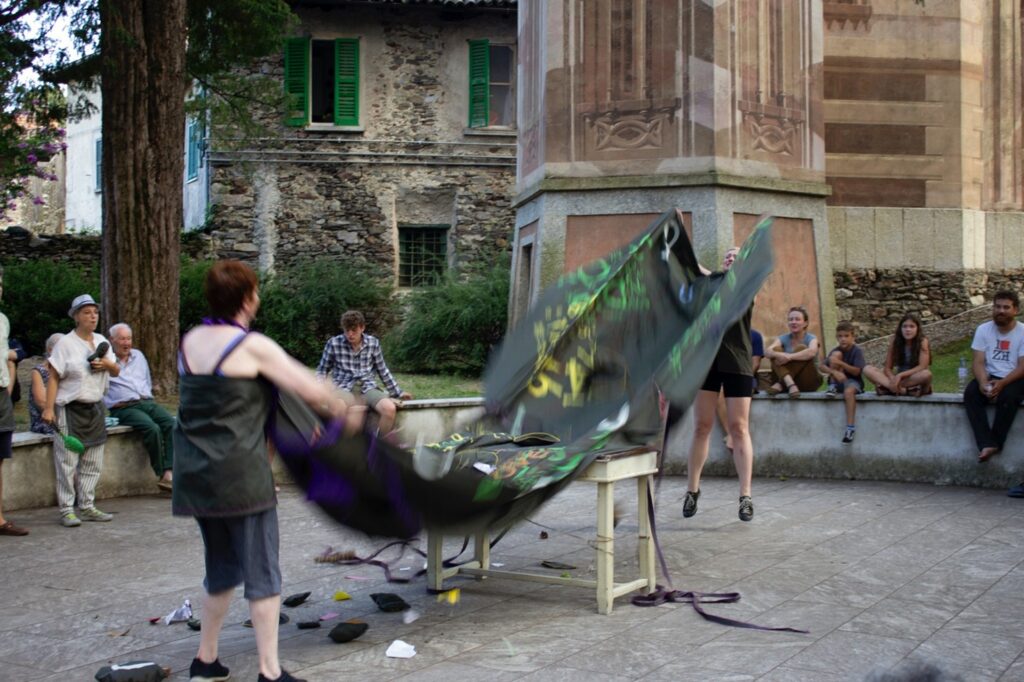 What are your current projects?
We are continuing to work with our parachute in different contexts. DadAmeno is a good example of this. It is part of our ongoing collaborative project Statement of Intent (S.O.I.) as you can see in these two pictures:
                                              We had to cut the parachute into pieces. It was so heavy – 70 kilos!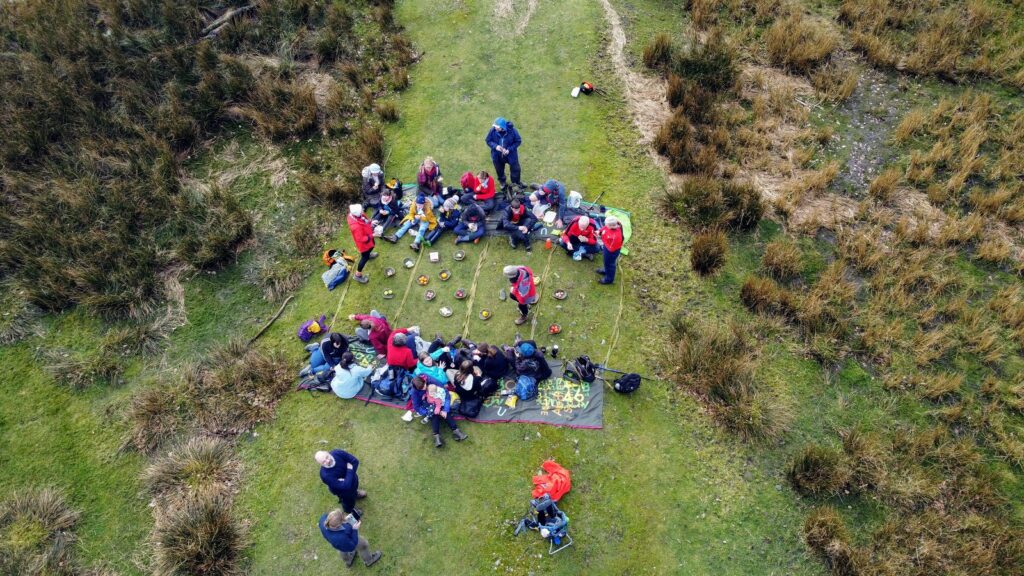 What is S.O.I. about?
S.O.I. is an open-ended, mobile and performative structure of accumulating art forms, which visually articulates our ideas, citing selected elements of Schwitters and Hausmann's collaboration. We made sections of parachute into picnic blankets to host a special event for our friends, in the Lake District. Our decommissioned cargo parachute, not unlike Schwitters' Merzbau project, adjusts to accommodate its environment, is deliberately unresolved, continually expanding and transforming, and is a collaborative undertaking combining multiple perspectives, voices and languages.
https://www.instagram.com/artist_a_and_artist_b/
https://www.heatherross.online/